Keep Your Fleet On the Road
At National Truck Emergency Road Service we strive to provide the best results to companies across the country, relying on more than 60,000 qualified vendors to help your team when they need it most. From light- and heavy-duty towing services to equipment transportation, winch-outs, and recovery services in the worst conditions, we'll ensure that you have the help you need. National Truck Emergency Road Service will help you achieve the fastest and most effective results at the lowest rates!
At National Truck Emergency Road Service, we're here to resolve your emergency situations promptly and effectively. The transportation industry is the back-bone of our nation. Our job is to make sure that you can keep doing your job, no matter what. That's why our service offers a selection of fast, effective roadside options. Our live Technical Service Advisors are available 24/7 to coordinate your roadside service from start to finish. We even handle the payment so you can focus on getting your rig on the road!
Our towing and recovery services cover everyTHING YOU need, including:
Load or vehicle swaps
Accident/disaster recovery services
Equipment transportation
Dynamic towing services
Truck and trailer storage available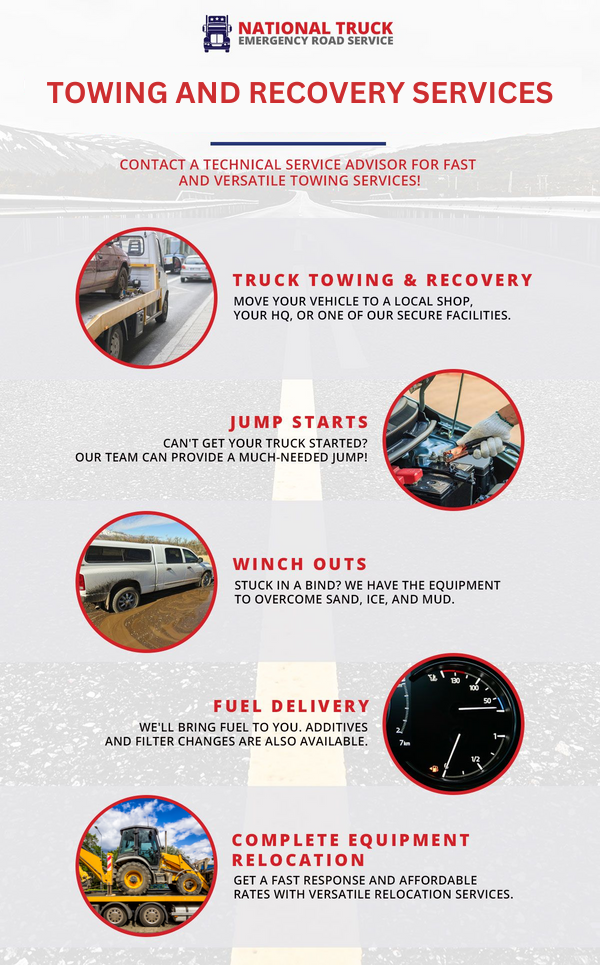 COMMERCIAL VEHICLE TOWING AND RECOVERY
At National Truck Emergency Road Service, we have negotiated rates with our partnered tow technicians across the nation that allow us to pass savings on to our customers. Working with us is simple. Call us to explain your situation and a Technical Service Advisor will manage your call from beginning to end. Our dispatchers are always sure to find the fairest rates and quickest ETAs to pass savings on to you.