FAST, EFFECTIVE TIRE SERVICES
Complete Peace of Mind for the Transportation Industry
Keep Your Business Up and Running
When you have tire problems, it is always good to have options. We provide an array of new tires, recaps, as well as high-quality used tires. We service local and national fleets for complete emergency road service, towing, tires, and on-site repairs. Our professional staff will have you back on the road fast. National Truck Emergency Road Service is here as your all-in-one provider for semi truck road services, including tire repairs, towing services, and more.
COMPLETE TIRE REPAIR SERVICES TO KEEP YOUR FLEET ON THE ROAD: 
24-Hour Mobile Tire Service
All Major Tire Brands Available
All Wheels Available (Aluminum And Steel)
Competitive Pricing
Tire Repair
Spare Tire Swaps
Light-, Medium-, and Heavy-Duty Vehicles
Vehicle Alignment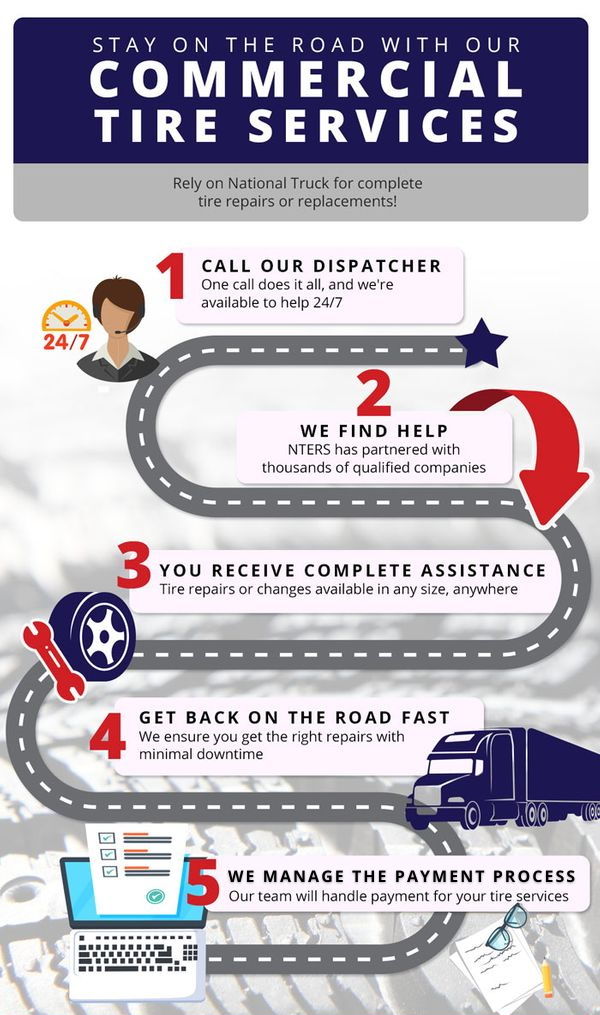 A FASTER TIRE SERVICE
Reducing downtime has been our goal since the beginning, and we have found great success in our process. When our dispatcher receives the details of your situation, they will contact our partnered technicians, dealerships, and original equipment manufacturers that are capable of servicing any size of commercial vehicle. Once we have a technician on their way, our dispatchers will be in touch with you and your technician throughout the entire service, making sure you are being taken care of correctly.
TIRES AVAILABLE ANYWHERE
Tire repairs and services are two of the most common breakdowns we see, and because of that experience, we want to be certain that our customers get exactly what they need every time they call us for tire services. To accomplish this, we have partnered with tire vendors across the country that carry tires of all sizes, allowing us to find whatever tire you need anywhere in the nation. Some of our customers prefer a specific tire brand or quality of tire, and our extensive network of vendors allows us to locate and deliver whatever is requested.
ONE CALL DOES IT ALL
Often, what seems to be a simple tire service at first can turn out to be something much more extensive. To avoid this predicament causing more issues, we make sure that our partnered technician is capable of servicing any emergency roadside service that arises. Our partnered tire technician gets your driver back on the road faster, reducing downtime and costs.
ROADSIDE TIRE SERVICE
We have access to vendors in every state that are available 24/7 to help you get back on the road whenever you break down. If it's a tire repair or change, our dispatchers will be able to find someone to help you no matter where you're located. National Truck Emergency Road Service is your nationwide tire company.
TRUSTED TIRE BRANDS
If you require roadside tire replacements, you likely have a preferred tire in mind to keep your vehicle moving along. Through our trusted vendor network, National Truck Emergency Road Service can help to source and provide a full range of brands, including Michelin, Toyo, Goodyear, Yokohama, Dunlop, and more. You can rely on our service advisor to get you the right tires for the job.
TIRES FOR EVERY COMMERCIAL VEHICLE
Whether you have a fleet of vans on the road or you rely on heavy-duty trucks to get the job done, National Truck Emergency Road Service has the resources to get you back on the road. Our vendor network consists of qualified professionals for a wide coverage range for every size vehicle.
PROVIDING LONG-TERM VALUE
Why invest in a short-term solution when you can receive long-term results to keep your fleet up and running? Our team can generate the best value through our roadside assistance services. We also offer preventative maintenance and fleet maintenance services to generate the most cost-effective results mile after mile.
NEED ASSISTANCE?
We're here to help 24/7, and would be happy to discuss our available roadside services to ensure that your fleet is up and running at all times. You can call us, contact us online, or fill out the form below for more information. Choose National Truck Emergency Road Service for your semi repair services and more!