Since 1990, the team at National Truck Emergency Road Service knows a thing or two about how to make a national-scale roadside assistance service work beautifully. Continually striving towards seamless perfection does for our clients exactly what we expect — it reduces confusion, eliminates anxiety, and provides unmitigated transparency.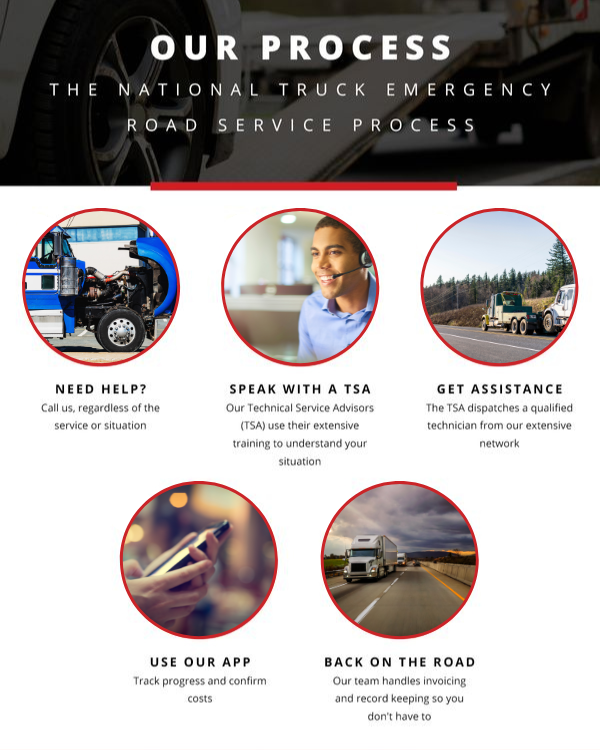 Along each and every step of our process, our clients are kept in the know. As soon as our Technical Service Advisor (TSA) receives your call for help, we're focused on the urgency of your situation. Using their automotive and/or trucking industry background along with over 200 hours of extensive training in repair solutions and dispatching, your TSA searches our vast database of vendors to find the perfect service provider. Quickly assessing the price quotes and ETAs provided by three different prescreened, local vendors, your TSA establishes your wait time and cost of service.
After dispatching the vendor to your location, you and your TSA can follow the technician's progress on our mobile app, ensuring confidence that help is on its way. Track the technician, and confirm costs without hassle or confusion through constant communication and updates with your TSA as well as our mobile phone app.
GPS tracking, constant ETA updates, expert repair diagnosis and screened contractors — it's everything you deserve, and should expect from your roadside assistance team. Find out how our unquestionable process has helped us to become the leaders in the fleet services industry by scheduling your next service need with National Truck Emergency Road Service.