SCHEDULED MOBILE TRUCK PM SERVICES
Rely on National Truck Emergency Road Service!
MOBILE PM SERVICES
Through our Vendor Network Program, National Truck Emergency Road Service has thousands of PM facilities across the country, all of which follow our high-quality guidelines. Our technicians have years of experience, and are highly qualified in working with domestic or foreign vehicles. Our ASE-certified technicians perform and completed automotive inspection, oil changes, minor repairs, and a full visual inspection. Wherever your vehicles are located, the vendors from National Truck Emergency Road Service are fully capable of servicing your vehicles.
Mobile Full DOT Inspections: Mobile semi truck full inspections are a comprehensive way to maintain the health and safety of your fleet. A certified technician will conduct a thorough examination of all essential functions of your truck, including brakes, suspension, engine, and electrical systems. This type of inspection helps to identify minor issues before they become costly and time-consuming repairs, ensuring that your fleet stays productive and safe on the road. By using our mobile semi truck full inspection service, you are investing in the long-term health and performance of your fleet.
Mobile Oil Changes: Mobile semi truck oil changes are a hassle-free solution to keeping your fleet in top condition. A trained technician will come to your location and drain old oil and replace it with new, high-quality oil and filters that meet your truck's specifications. This service helps to prolong your engine's life and efficiency, reducing the risk of costly breakdowns. With mobile semi truck oil changes, your fleet stays on the road, productive, and reliable.
Mobile Minor Repairs: Mobile semi truck minor repairs are a convenient and cost-effective way to handle on-the-go repairs where and when you need them. With a mobile repair service, certified technicians will come to your location to conduct a thorough inspection of your vehicle and perform any necessary repairs on the spot. This service saves time and money, as it eliminates the need to transport your truck to a repair shop for minor repairs and wait for repairs to be completed. Mobile semi truck minor repairs ensure that your fleet is back on the road quickly, reducing downtime and maximizing productivity.
TYPES OF PM INSPECTIONS:
Type A: Known as "APM". This service includes a regular walk-around dry inspection.
Type B: Known as "BPM". This service includes a dry inspection with a Standard Oil change.
Type C: Known as "CPM". This service includes air filters, fuel filters, oil filters, oil changes, and a complete PM inspection.
Keep Your Fleet On the Road
National Truck Emergency Road Service offers nationwide mobile truck PM's to keep working professionals on the road and in business. No matter your fleet needs, our mobile truck maintenance services are here to provide effective, and affordable results. We've partnered with more than 60,000 qualified vendors to ensure that your truck, car, van, or pick-up is cared for in a comprehensive manner.
At National Truck Emergency Road Service, we're here to resolve your emergency situations promptly and effectively. The transportation industry is the back-bone of our nation. Our job is to make sure that you can keep doing your job, no matter what. That's why our service offers a selection of fast, effective roadside options. Our live Technical Service Advisors are available 24/7 to coordinate your roadside service from start to finish. We even handle the payment so you can focus on getting your rig on the road!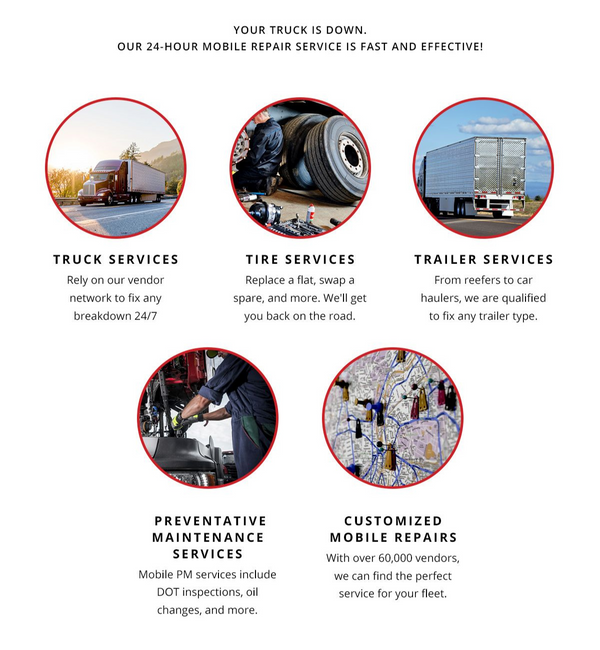 SCHEDULED MOBILE PM SERVICES WHEN YOU NEED IT MOST
We come to your location and service your vehicle. In most cases, we can service your fleet of cars, vans, pick-ups, and trucks at your schedule. You tell us when you need us and National Truck Emergency Road Service will be there to assist your fleet.