ALL LIGHT, MEDIUM, & HEAVY-DUTY VEHICLES
Keep Up On Your Maintenance Schedule
Our PREVENTATIVE MAINTENANCE Services Keep Your Fleet Running
From vans and automobiles to heavy-duty trucks, and small teams to national fleets, every enterprise relies on preventative maintenance services to deliver the most peace of mind and the best return on their most valued investments. No matter your vehicle needs, National Truck Emergency Road Service is here to keep your fleet running strong! With a vast network of trusted providers and our proven process, you're sure to benefit from our proactive maintenance services.
WHAT IS PREVENTATIVE MAINTENANCE?
Preventative Maintenance consists of the services that are performed to a vehicle on a recurring basis to make sure it is always in working order and are operating efficiently. Taking advantage of our preventative maintenance services will allow you to not worry about scheduling preventative maintenance or inspections for each of your vehicles because we take care of all of it for you. From small to large fleets, National Truck Emergency Road Service is capable of scheduling and dispatching maintenance for as many vehicles as you require.
NATIONAL TRUCK EMERGENCY ROAD SERVICE PREVENTATIVE MAINTENANCE PROGRAM
Routine maintenance is the first step to protecting against costly breakdowns — you don't need to be an expert in automotive engineering to know that. After decades of helping some of the nation's largest companies keep their vehicles running at their best, we've established one of the largest networks of mobile on-site and in-shop service providers.
Offering A, B, and C level preventative maintenance programs, as well as DOT inspections at locations across the nation, our service will help ensure compliance at the federal and state levels. Starting with a competitive pricing structure, our maintenance schedules and vehicle management procedures are designed to ensure compliance and complete confidence in the safe and efficient operation of your vehicles.
General maintenance and repair
Complete maintenance schedules, general repairs, tire rotation, and tune-ups for local and national fleets
Specializing in mobile preventative maintenance services for heavy-, medium-, and light-duty trucks, vans, and automobiles
Competitive pricing
24-hour availability
15-day purchase order billing and maintenance contracts available
Trained, ASE-certified technicians specialized in diesel and gas engines
Fully licensed and insured
Since we already manage tens of thousands of vehicles cruising the highways and byways of the American landscape, we're the trusted fleet services provider of the nation. Call today and find out just how easy National Truck Emergency Road Service can make it to schedule service for your vehicles. No matter the circumstances, we can help.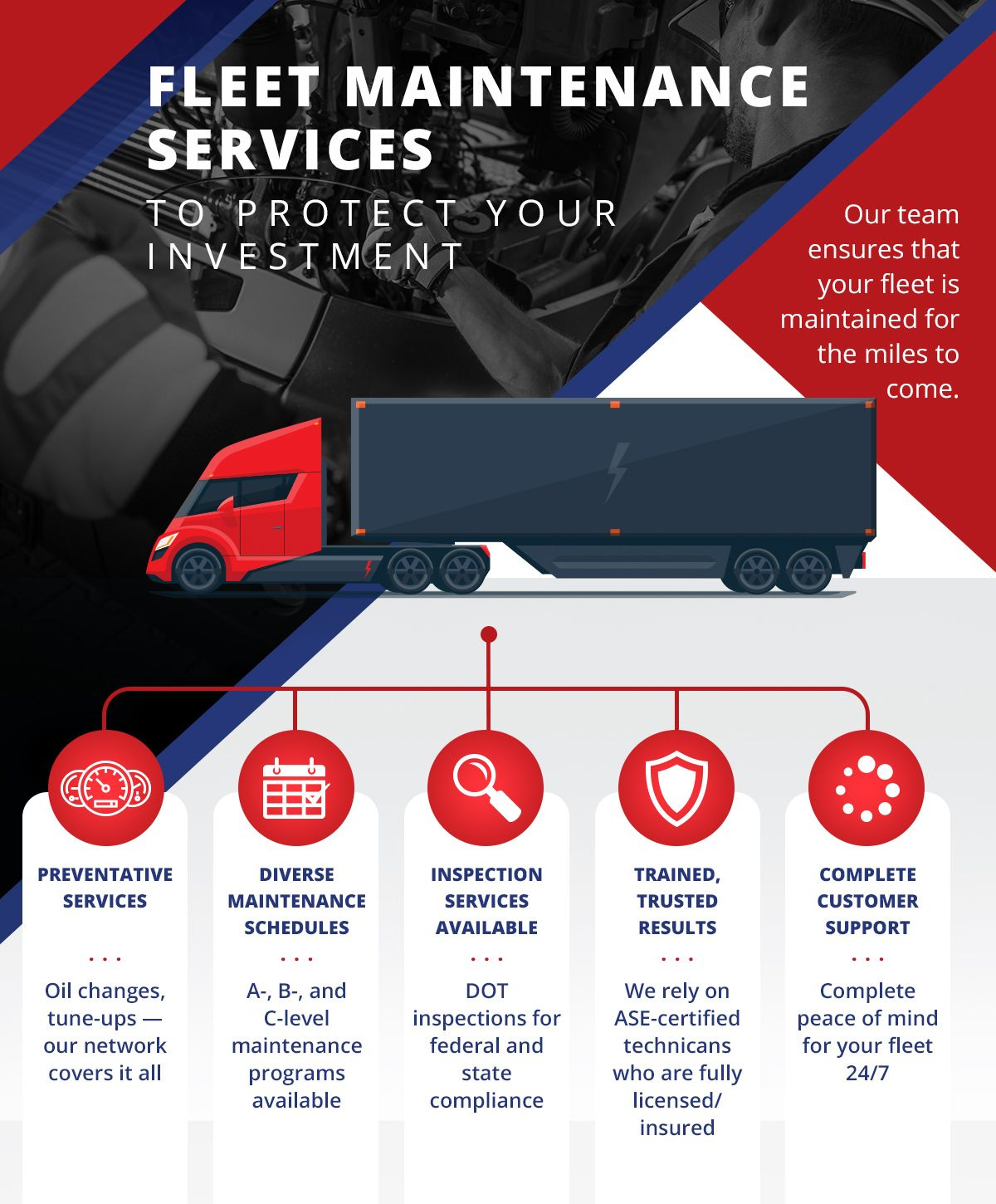 WHY SCHEDULE PREVENTATIVE MAINTENANCE FOR YOUR FLEET?
Yes! National Truck Emergency Road Service excels at emergency roadside repairs for commercial trucks, but our true goal is to avoid the need for on-road repair and towing services. Our preventative maintenance services are available for all of our clients, delivering peace of mind month after month. We all know proper care can improve the results, so why not take every step needed to retain optimal performance?
National Truck Emergency Road Service is here to provide the best support services to fleets across the country. If you're considering preventative maintenance for your vehicles, it can help to know that our services help to:
Reduce fleet costs — A quality preventative care plan can provide measurable results for your business. Proper maintenance can help you control your costs, reducing the need for intensive and often costly repairs.
Improve vehicle longevity — You want to get the most out of every mile. Preventative maintenance measures help to reduce friction and stop problems before they worsen.
Reduce overtime concerns — Paying for high-value repairs can take a lot from your company assets, as well as the overtime pay of your workers to stay with the vehicle and ensure repairs in the event of a breakdown. Maintenance services can help to reduce the need for employee servicing, reducing your labor concerns when it comes to maintaining your vehicles.
Improve safety conditions — Scheduling preventive maintenance can help to ensure that your fleet is in safe, working condition. Routine inspections from a professional can help to improve the quality and safety of your vehicle for everyone on the road.
CONTACT US TODAY FOR ASSISTANCE!
National Truck Emergency Road Service is here to provide comprehensive road services to truckers in need, delivering complete roadside repairs, tire services, emergency services, towing and recovery, and fleet maintenance. From small to large fleets, passenger vans to big rigs, our trusted vendor network and proven process can help to enhance your bottom line and grow your business.
Ready to learn more about our preventative maintenance programs? Contact us today!